Cagliari will host the 2022 edition
The Formula Kite World Championships remain in Sardinia: Cagliari will host the 2022 edition
by Sardinia Grand Slam 17 Jul 07:23 PDT
October 8-16, 2022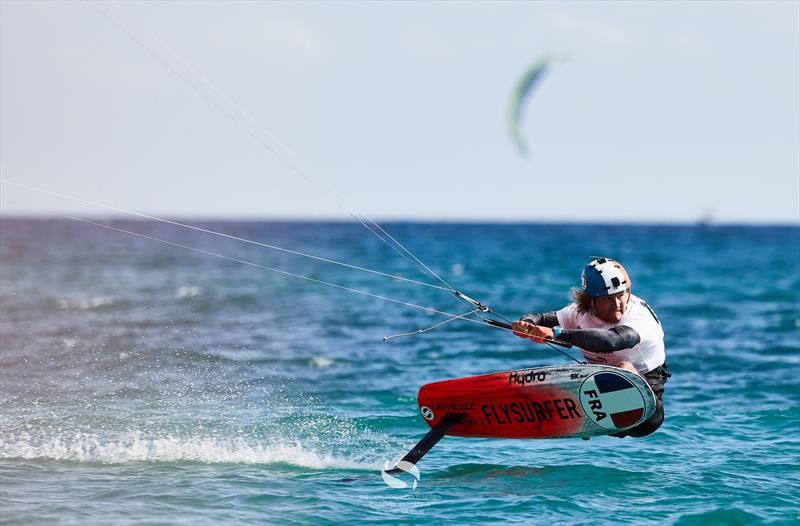 Theo De Ramecourt in action at the Sardinia Grand Slam 2021 © IKA Media / Markus Hadjuk

From Oristano to Cagliari there is only one step: Sardinia is asserting itself as the queen of world kitesurfing by also hosting the Formula Kite World Championships in 2022.
Awaiting the discipline's five-circle debut at the Paris 2024 Olympic Games, specialists in the new "Olympic discipline of sailing" will fight for a new world title in Sardinia, moving their foils through the waters of the Golfo degli Angeli.
Cagliari, the capital of Sardinia, is the city designated to host the world's highest competition, from October 8 to 16, 2022 as part of the Grand Slam of Sardinia: last October, the emblematic sailing event organized by GLEsport, had hosted the IKA KiteFoil Queen Stage of the World Series.
Frenchman Theo De Ramecourt and American Daniela Moroz will be called upon to defend the crowns won in 2021. Cagliari is ready to welcome more than 150 athletes representing 40 countries and 6 continents.
The world championships will be organized by the company GLE Sport. "We are very happy that our event has been selected to host the Formula Kite World Championships in 2022," said GLEsport President Gian Domenico Nieddu. "In Sardinia, we were among the first to believe in this discipline, which is currently enjoying growing success with young people and which is about to make its debut at Olympic level. We thank the IKA, the International Kitesurfing Federation , and World Sailing, the International Sailing Federation and the Italian Sailing Federation for trusting our organizational framework: we will do everything to fully respect the great expectations placed on our event".
"Cagliari and the Grand Slam of Sardinia are world-class excellences in kiting. We had no doubts about awarding the next Formula Kite World Championships to Cagliari, also considering the excellent work done the last year in the organization of the IKA World Series Cagliari, we have everything we need to organize a successful edition from a technical, organizational and media point of view.We will welcome an incredible fleet with all the seats allocated to the national teams of the world", commented the president of the IKA, Mirco Babini.
The Councilor for Tourism, Crafts and Commerce of the Autonomous Region of Sardinia Gianni Chessa also expresses his satisfaction: "The kite has become a strategic sport for the Autonomous Region of Sardinia, for the enhancement of our beauties regional. Cagliari is an ideal place to host a World Championships, due to its great experience in the world of sailing, and the ideal climatic conditions of the Golfo degli Angeli are perfect to offer a show that lives up to expectations".